Mortgage Protection Insurance Protects Your Family
In case something happen to you what would happen to your home? Will your family be able to pay the mortgage? Mortgage Protection Insurance (MPI) will provide the protection your family needs in case of death, disability or you lose your job. This coverage could be the best financial move you take for your family. That's why if you have a mortgage it's worth looking into mortgage protection insurance.
What is mortgage protection insurance?
Mortgage protection insurance simply is life insurance that pays your mortgage if a certain event, such as death, disability or job loss occurs. The cost of this policy depends on the amount of your mortgage and your age and health. For disability MPI, costs also vary depending on your occupation.
If you purchase mortgage protection insurance it pays off your mortgage when you die. This frees your family from worrying about how to make the mortgage payments knowing that their home is paid for.
Your policy pays in case you are disabled or lose your job, but only for a certain period, typically a year or two, and there may be an initial waiting period. Disability or job-loss policies pay the principal and interest on your mortgage. You may be able to get a rider to cover other mortgage-related expenses such as homeowners's association fees.
Who Should Choose Mortgage Protection?
If you are wondering if you should choose mortgage protection, then you need to ask yourself a few questions
Who are you leaving your debt to?
Can your family afford paying the mortgage without your income?
Do you have enough life insurance to cover the mortgage in the event of your death?
How many years are left before the mortgage is paid off?
Can you continue paying your mortgage if you are out of work for an extended period?
Can you afford the monthly mortgage protection premiums?
If you are concerned about your family's ability to continue making mortgage payments if you die or are injured, then you should seriously consider a mortgage protection option. When it comes time to buy mortgage protection insurance, learn about the features and price of each policy.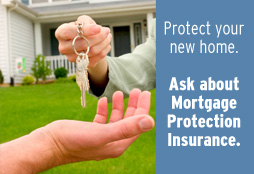 MORE ABOUT US
Get In Touch With Us
Nullam id dolor id nibh ultricies vehicula ut id elit.
Cras justo odio, dapibus ac facilisis in, egestas eget quam.