Part D Prescription Drug Plans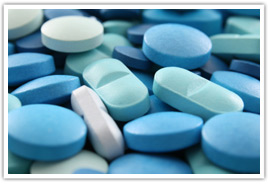 You can sign up for Part D Prescription Drug Plans, which helps cover prescription drug costs, along with other components of Medicare starting three months before your 65th birthday.
It's important to do this on time because there's a permanent premium surcharge for enrolling more than three months after your 65th birthday if you don't have equivalent drug coverage from another source, such as a retiree plan.
Let us help you with when to enroll.
If you are already enrolled in a Part D "standalone" plan or a Medicare Advantage plan that incorporates drug coverage, you can switch plans during the open-enrollment period, which runs from Oct. 15 to Dec. 7 every year.
Making Part D work
Most Prescription Drug Plans have a coverage gap called a donut hole. This means there's a temporary limit on what the drug plan will cover for drugs. The coverage gap begins after you and your drug plan have spent a certain amount for covered drugs. For 2020, you're in the coverage gap once you and your plan have spent $5,100 on covered drugs. People with Medicare who get Extra Help paying Part D costs won't enter the coverage gap.

Once you reach the coverage gap in 2020, you'll pay 25% of the plan's cost for covered brand-name prescription drugs. You get these savings if you buy your prescriptions at a pharmacy or order them through the mail. The discount will come off of the price that your plans have set with the pharmacy for that specific drug.

Although you'll only pay 25% of the price for the brand-name drug in 2020, 95% - what you pay plus 50% manufacturer discount payment - of the price will count as out-of-pocket costs which will help you get out of the coverage gap.

In 2020, the drug company will cover 50% of the cost, Medicare will pay 25% of the price for generic drugs during the coverage gap. You will pay the remaining 25% of the price.  The coverage for generic drugs works differently from the discount for brand-name drugs. For generic drugs, only the amount you pay will count toward getting you out of the coverage gap.


Choosing a plan
It pays to review your Part D coverage every year, especially if you have started taking new drugs.  You have 3 options to get assistance with your drug plan options:
Fill out the form on this page and a licensed agent can discuss plans with you and use the drug calculator to find the best plan with the lowest out of pocket cost.
Call us at: 574 936-4152
Visit Us: 316 N. Center St. Plymouth, IN 46563
Getting financial help
You may qualify fore extra help if:
You have Medicare Part A (Hospital Insurance) and/or Medicare Part B (Medical Insurance); and
You live in one of the 50 States or the District of Columbia; and
Your combined savings, investments, and real estate are not worth more than $28,720, if you are married and living with your spouse, or $14,390 if you are not currently married or not living with your spouse. (Do NOT count your home, vehicles, personal possessions, life insurance, burial plots, irrevocable burial contracts or back payments from Social Security or SSI.) If you have more than those amounts, you may not qualify for the extra help. However, you can still enroll in an approved Medicare prescription drug plan for coverage.
It never hurts to try if you think you are close to qualifying.  You can apply for extra help HERE.

Download Medicare's instructions on applying for the Extra Help program.